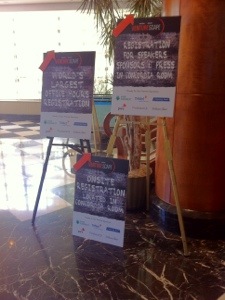 As I type this out, I am sitting at SFO about to head back to Denver. I have been in San Francisco for six days (roughly), and, the original intent of the trip was to attend VentureScape 2013 Office Hours yesterday and spend the rest of the time meeting with friends, colleagues, etc.
The plans have changed since early last month though: my parents take an annual trip to California and when they heard I would be back in SF during this time period, they decided they would also travel out at the same time. Plus, this year was one of those special years where Mother's Day fell on the same day as my brother's birthday.
So, the trip became a family-oriented one rather than friends-social-business-oriented. I am perfectly fine with the way things turned out, but am also disappointed I was not able to meet with folks I had said I would meet with when I was next out here.
Well, the timing was not right for that; and, as one Twitter follower said to me, "Family is priority." It's true; my parents aren't getting any younger these days (and neither are we). Over the weekend, we went to a winery in Livermore and did a small tasting; went to Hakone Gardens to look at the bamboo garden; ate good seafood and good steak; and generally enjoyed the drive around Silicon Valley. It was a good time with my family; couldn't trade it for anything else.
I was able to meet with a few friends, but only a few. A few had to cancel but I found that to be no big deal considering I was pretty much a flyby visitor.
It was a good trip, and probably my last trip to the Bay Area for the year…unless something else harkens me to the area. Although I am disappointed that I was not able to see a lot of friends, I am also okay with that. Life happens, and just have to go along with the flow.
(P.S. My post about VentureScape will be next week)