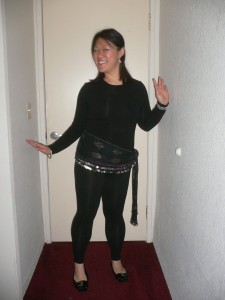 Halloween, oh Halloween. Truth be told, I've never enjoyed this holiday.
Growing up, my siblings and I didn't partake in the holiday; we lived in an area where most everybody were college students, so there was no way for us to enjoy trick-or-treating. Our parents still had to work at the restaurant, so there was no adult guardian to get us across town to the family-friendly neighborhoods.
My memory of costumes in childhood is foggy; I only remember doing some Halloween festivities through Girl Scouts or Awana. One year, I got my face painted for Halloween; the following few days, I had an allergic reaction on my face, so I never touched face paint again.
Going into my adult years, I haven't gone to many costume parties. I honestly find the costumes that stores sell very sexist for women. Always a sexy-little-something. Not my thing. And I haven't cared to put in hard-earned cash for creating my own costume. What's the use? It's a silly holiday to me.
As you can see from the picture in this post, 2009 was the last time I got dressed up. I remember that night was terrible; my friend and I were invited to go to the Bubble Lounge in San Francisco. We figured that public transportation would be the best idea for the night. HA…no. We were miserable trying to get to the Bubble Lounge…and when we arrived there, our friends were so late that we ended up just leaving and hoping to get back to my apartment at a reasonable time. It took forever to get back out to the Outer Richmond. The bus moved very slowly because everybody wanted to pile on. Everybody was either going home from a Halloween party or going to another party. Most patrons were already wasted in costume.
When my friend and I had arrived back at my apartment, we both vowed to each other that we'd never to a Halloween night like that again.
In 2010, I spent my Halloween grocery shopping with my cousin; that was also the same night the San Francisco Giants won the World Series. Cars stopped in the streets, honking; people ran out into the streets saying "GO GIANTS!"….The Journey song "Don't Stop Believin'" blared from somebody's car.
Last year and this year, I will spend Halloween at the NaNoWriMo Kick-Off Party. That's pretty much how my Halloween is going to be from now until I have my own children.
So yes, I don't celebrate Halloween. I enjoy seeing others' costumes (if creative and not tasteless); I just don't care to get into a costume myself and go to wild parties to show off this costume. I'd much rather stay at home and watch Ghost Adventures.