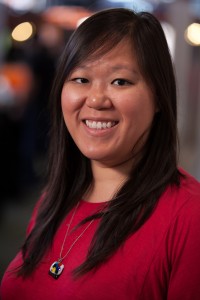 Hey everyone! Thanks for stopping by my blog. As you may already know, my name is Helene Kwong and I am a serial entrepreneur (current business: Hashtagitude Digital Marketing, LLC). I received my Bachelor of Science in Marketing from George Mason University and have used this degree to its fullest through my previous work experience and my businesses. Other than entrepreneurship, I do enjoy networking and connecting people from all walks of life; on Twitter I am known as the "Master Connector" and the "Hashtag Hustler".
I am also a writer of novels and short stories. Born and raised in Virginia, I first received writing inspiration during childhood, where I collaborated on stories with my classmates and kept notebooks upon notebooks full of fun little stories (and yes, I still have these notebooks!). Since 2007, I have completed four novels and have five in progress. These have been completed through the wonderful Office of Letters & Light programs of NaNoWriMo, Camp NaNoWriMo, and Script Frenzy. When I'm not writing novels, I write reviews about books,music, and restaurants (was Yelp! Elite for nine years).
I have a wide range of hobbies: fiber arts (crocheting and knitting), sewing, cooking, traveling, running, painting, reading, et. al. You will always find me with a good laugh and a great book in hand. My favorite writer (and a good friend) is Craig Lancaster, author of 600 Hours of Edward and The Summer Son.
I have traveled throughout the US and eastern Asia and am fascinated by different cultures. I have intermediate fluency in Spanish and Japanese, conversational proficiency in my parents' home dialect of Taishanese, and briefly studied Korean while living in San Francisco. I like to think of myself as a polyglot-in-training and plan to continue my studies in the Korean language, in addition to picking up Mandarin Chinese, Swedish, and Brazilian Portuguese (among many other languages!).
I spent four years in San Francisco before moving to Denver, Colorado. My heart now belongs to the Mile-High City and everything the great state of Colorado has to offer.
Random Facts about me, Helene:
I participated in the filming of a music video for an indie band in San Francisco in 2008. Sadly, there is no trace of the music video on YouTube.

I played trumpet throughout middle school and high school and fancied becoming a professional musician.
Before TAOpivot (my first company), I thought I'd start a clothing company in San Francisco and began sketching out concepts before scrapping the idea.
My first language is Taishanese, but I say English is my native language now due to the fact that I use it the most in my daily life.