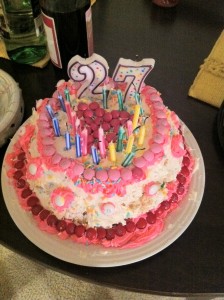 It's been two years since waking up in the ICU, wondering why my head throbbed and why I was there in the first place. It's been two years since that accident, the bills, the trauma; the memories continues to fade and be replaced with new, better memories.
In the past few weeks, I've shed away the final layers of that period of time. I've had friends tell me that I'm a phoenix: always arising from the ashes, becoming anew every time. This time around, I feel it is much truer than before; only now do I feel I have the wings to soar.
I've been here in Denver for six months now; most everyone who greets me with "Happy Birthday" today doesn't know about what happened to me two years ago, how I almost lost my life. I've tucked that box away, taken my roots up from the City by the Bay, and have planted myself in the Mile-High City.
Every day I am here, I feel more and more at home. This is my calling; this is where I belong.
And this is where I shall celebrate many more birthdays to come.