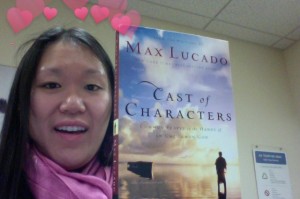 As you can tell from my picture, Cast of Characters really rocked my boat.
It only took me two years to finally finish it….
Yeah, you wonder why it took so long. Well, a lot of things happened since I requested for this book in 2010…to the point where I had to stop reading for a period of time. Too many headaches, and not related to the book.
But I'm so glad I came back to the book, because it really resonates with me: society believes in Biblical characters being perfect, or that's how the Bible has become known for.
So many of the characters are flawed, just how we are. Nobody is perfect. And Lucado sets out the many examples from the Bible to shine the light on this truth. Do we need a full book to tell us that we aren't perfect? Well, the Bible has that all written out. And Lucado condensed it down into understandable, present-day situations.
I highly recommend this book for those who need a quick reminder of our imperfections through the showcase of major Biblical characters. You won't regret it!