That was meant to be a rhyme.
Anyway, to start off the wonderful week and a half (or so) of my Denver Appreciation posts, here is Fabric Bliss.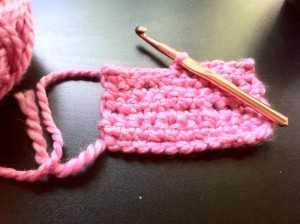 When I was not yet out in Denver, I remember I started following several business owners/etc. on Twitter to infiltrate the crowd that way. I remember Aurora Sisneros, owner of Fabric Bliss, was one of those reciprocal to my following. I'd read each update about what all was happening with the new shop (not yet opened!) and anticipated visiting the store when I arrived in Denver.
I actually didn't get to go to Fabric Bliss until earlier this year; it was at a First Friday Art Walk and I waltzed into the store, introducing myself to Aurora and the both of us nerding out to yarn, fabric, etc.!
The store is really a dream haven for anyone who sews, knits, crochets: lots of fabric along the left side of the store (and throughout the smaller shelves in the center right area); LOTS of yarn lining up close to the ceiling along the shelves on the right side. There are patterns, sewing/crochet/knit supplies, and then some locally-made goods as well.
On one First Friday, I sat at the front of the store (in one of the sofa chairs) and knitted while patrons were coming in and out of the shop. A few weeks ago, I finally was able to make it to the Sewing 101 class, where I got to make a double-sided tote bag. So fun! I really like the energy here. Aurora is so approachable & always willing to show a newbie the ropes. She taught me how to correctly cast-on for knitting; somehow I wasn't doing it right these past few years!
Thanks to Aurora and her shop, though, I've been re-inspired to get back into my projects. Please, when you visit Fabric Bliss, say hi to Aurora if she's there! She's so friendly and helpful. Let her show you the ropes (no pun intended) on the different yarn weights, different sized needles/hooks, etc.