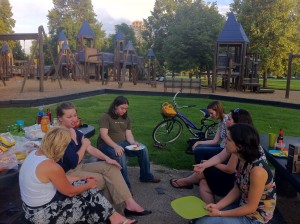 If you follow me on Twitter, you probably wonder why I always mention Creative Density. This is another organization that I started to follow on Twitter before my big move to Denver. Coworking was a foreign thing to me early last year, but by now, I am so entrenched in the movement of shared office space.
Craig, the owner of Creative Density, is so awesome. Talk to him about any business topics, and he is quite knowledgable. I love going to Creative Density to see my regular crew: Craig, Jason R., Kevin M., and Pontus (when he's here in the US and not in Sweden). I love the energy that flows through the whole space. This was where I launched TAOpivot, with the wonderful help of the support at Creative Density.
I feel that Creative Density has been my ticket to get into the Denver tech/startup community more easily. Everyone is just so helpful, approachable, and generally fun. Although my membership here has gone back and forth between part-timer and a regular, I will always go here to get away from the coffee shop atmosphere & my home office.
Check Creative Density out for a free day of coworking. You won't regret it!