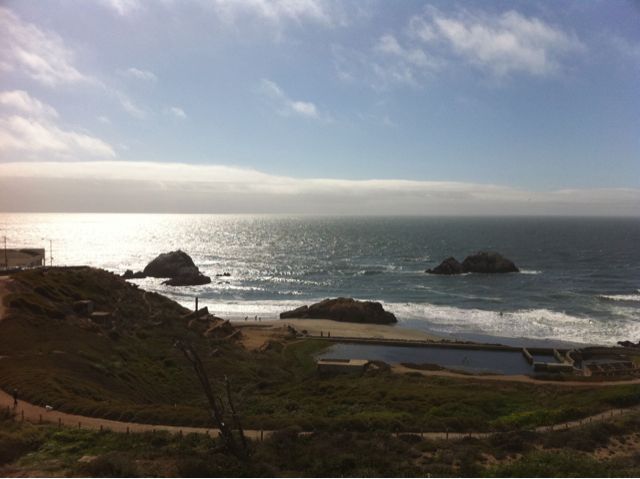 There are few places left in San Francisco that I enjoy. There are few things I feel happy about in this city. But, yesterday, spontaneity struck.
Instead of going on our weekly gym outing, we went  to Lands End Park, which I hadn't visited since February. The weather yesterday was perfect for a visit to the park by the ocean: sun beaming down, a mostly clear blue sky. The rays bouncing off of the water made the scene so dreamy and fantastic. Even though we didn't venture into the park for more spectacular views, the scene (in the picture) was enough for our satisfaction.
And then, Baker Beach. I first visited Baker Beach at the very start of this year; this time, there weren't too many people out despite the fact that it was late afternoon (perhaps because of work/school). The beach was mostly secluded and felt like the perfect hideout. No clouds or fog were blocking the view of the Golden Gate Bridge, so we stopped to take a few pictures. We walked along the beach and I got sand in my tennis shoes once again.
The whole outing was rounded out with an early dinner at 100% Sweet Cafe, which I had visited awhile ago (sometime last year) when I still lived in the Richmond District.  We were able to take advantage of the restaurant's "Tea Time Special", which had a lot of noodle dishes and free drinks. The atmosphere was peaceful and intimate despite the cutesy decor of the restaurant.
I needed that bit of spontaneity to refresh my mood and emotions. Sometimes I prefer the unexpected more than the routine, even though having a routine is "safe".  Running off the beaten path seems to bring me more happiness than other things.