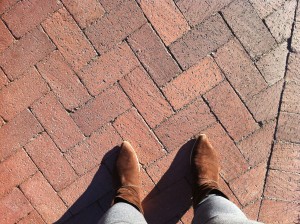 I've come to the realization that I am terrible at keeping a regular blogging schedule. But, I know I also cannot beat myself up for that: the last half of this year changed my life a lot, and, well, other priorities have taken precedence over blogging.
I figure now, on this New Year's Eve, that I should review my year in passing and welcome in this next year.
This year turned out a lot differently than I had anticipated from last Jan. 1. I found myself moving around the country to stay with family; I re-kindled old friendships in my hometown and discovered more hobbies to be passionate about.
I was expecting change when my first quarter came around. But I wasn't expecting so much change before then.
Living in Denver the past 4-5 months, I feel I am definitely in MY environment: I'm more sociable and open; I feel energized being around others who have similar career goals to me; I feel I can connect so much better with people here than anywhere else.
I've met so many wonderful people in Denver already, and I've only skimmed the service.
I know I say this every time, but 2012 is going to be another life-changing year. I already have many plans queued up for the year: for instance, I've taken the reigns to launch another the3six5 local edition: Denver ! Check out the blog, and spread the word if you know of people living/working in Denver.
Here's to the end of 2011 and hello to 2012.