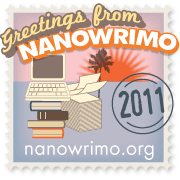 Yes, I'm dipping my feet into NaNoWriMo this year. I know I am crazy for doing this, especially since I am swamped with grad work.
But, well, I feel like it's a yearly fever for me: I never found momentum when starting on novels in other parts of the year, or even in participating in sister programs, Script Frenzy and Camp NaNoWriMo. That motivation, that camaraderie just wasn't there.
And then October and November roll around and the online world goes frantic for NaNoWriMo. I feel the energy and I want to be part of it! I feel if I don't participate, catch the fever, and revel in the insanity, I will be left out.
So I join in. Again and again.
I went to the Denver Kick-Off Party last night. The wireless network was not working too well for me, so I left early. Still managed to reach my Day One quota shortly after midnight. And, this year I actually did more preparation than in past years. I'm a half-planner, half-pantser now. Not bad: progress is progress.
I'm relieved to find a few other graduate students here who are participating in NaNo. Good to know I'm not the only one! We're planning on having a write-in this weekend. Sure hope it works out.