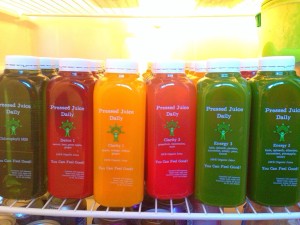 Remember that post I wrote about my 3-day cleanse? That only happened several weeks ago; anyway, yes, I got all my juices, chlorophyll water, aloe water, and DELICIOUS raw almond milk from Pressed Juice Daily.
Pressed Juice Daily opened its doors in Denver on September 20th; the kiosk/store is located on the 16th Street Mall at Court (near the World Trade Center). I had only heard of PJD from their following me on Twitter; I was intrigued by the name and the concept. So I began following their Twitter account and pounced on the chance to check PJD out on opening day.
I was promised that I could sign a $1 bill for being the first to arrive; alas, I was second to arrive, but that was okay. The owners, Adam Cianciola and Christian Davis, are both so kind and accommodating. They make the juices daily (heck, apparently they did not get much sleep the hours before their grand opening; they were bottling and pressing their juices for the big day!) They let passersby sample some juice before they buy; kids and adults love the various kinds of juice. Sure, a bottle averages about $8 each, but I can imagine pressing so many juices daily takes a lot of time, energy, and money (especially for organic, natural fruits and vegetables).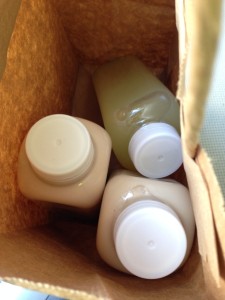 Now, with the 3-day cleanse, I got 27 bottles of all the different juices (you can see what the cleanse includes on their page). At first I didn't believe I could be successful with the cleanse (ah, my darn mind & its limitations). But throughout the first day, I found that I was not missing solid food. It helped that I was keeping track of my hours to space out the juices evenly throughout the day.
My favorites out of all the juices? Energy 2, Detox 1-2, and Clarity 2. One of the juices I had during the cleanse was seasonal: it had watermelon in it as well (I think that was in one of the Clarity bottles). Of course, I cannot stop raving about their raw almond milk; SO creamy and delicious. I could hardly believe that the milk was not sweetened with sugar, but with nature's goodness. At the end of each day of my cleanse, I savored the raw almond milk, sipping slowly and mumbling "Mmmm" each time. Yes, it's THAT good.
I succeeded in completing my cleanse by the end of that weekend; so thankful that I had PJD to guide me along with what to drink and when. Definitely felt cleaned out and ready to reset my diet.
While I know I can easily buy juices from national brands at Whole Foods, or hit up a well-established juice bar in town, I prefer the trip downtown to get cold pressed juice from PJD. I am all about supporting local, and I can see that the owners and their staff work hard to get the products out daily!
Check Pressed Juice Daily out when you're wandering around on 16th Street Mall!
(Oh, and by the way, they do deliveries!)