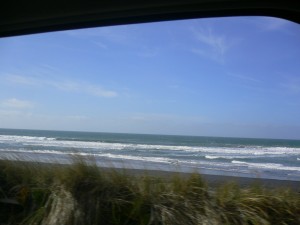 I haven't taken many road trips in my life, or at least none I can remember too well so far. When I was a child, we went on some road trips as a family, but most of them I don't remember too well. Just bits and pieces of visits to Virginia Beach and West Virginia (to watch dog races, hm).
When my eldest sister took us younger siblings to Williamsburg and Washington, D.C. in 1996, we had fun times singing along to radio songs and just relaxing in the heat of the summer sun while watching everything pass on by. I felt like we were on the road for awhile, but then again I was just a child at that point. Four to five hours in a car is a long time for a kid.
In the past year, I took smaller road trips around the Bay Area/northern California. Always an adventure to see new sights with other novice eyes. The drive I enjoyed the most was driving down Highway 1 to Santa Cruz. Watching the Pacific Ocean's endless horizon beside us was frightening yet also majestic. The glory of nature followed us all the way to the Beach Boardwalk.
Then, there was a road trip to Las Vegas in late August. Although it was intriguing to me to see another part of the state of California along the trip, I didn't care much for the arid scenery around us. To me, seeing desert is depressing. I need lush greenery, mountains, and water.