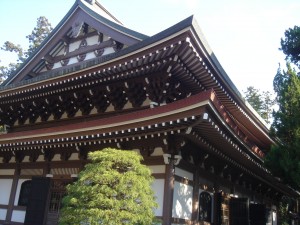 This month is a nostalgic month for me, especially this year: July 2012 marks ten years since I first embarked on my journey of learning Japanese.
It's a milestone, certainly; I will even go as far as to say July 2002 changed my life through this point in time.
During the earlier part of 2002, I was a junior. As we all knew in our little high school, all the accelerated learners of the junior class was "supposed to" apply to the Virginia Governors' Schools (summer programs). There were sciences, arts, agriculture, and languages. I didn't want to feel the high pressure to audition for the summer music program, so I decided instead, "I like languages. I will choose one of the language schools."
There was Spanish, French, Russian, and Japanese. Spanish and French were more competitive, and I just felt at that point I was fine with my Spanish proficiency. So I instead chose to learn a new language: Japanese.
The process was slightly rigorous, but after a few months of waiting for results, I received mail saying I was going to the Japanese Language Academy (JLA as we all later affectionately called it) for the summer of 2002. There was only one problem, though…
My eldest sister's wedding was set for July 6, 2002. And in order for me to qualify for the full JLA program, I had to stay for the duration of the three weeks in July, i.e., not be able to attend my sister's wedding. I remember crying about this with my sister, saying that I wanted so badly to be in both places at once.
I will never forget what she told me in response to my dilemma:
"Go to the Japanese Language Academy. You won't ever get this chance again."
(My thought at that point: "I won't get to attend your wedding ever again either…." but I kept my mouth shut.)
And so I went to JLA, missing my eldest sister's wedding….but, even today, forever grateful she gave me that nudge. For I met so many people at JLA who have touched my life so profoundly. After the program, I began to obsess over learning more about the Japanese language, diving into the Japanese music scene & staying in touch with my JLA friends. I'd get excited meeting Japanese natives and other Japanese speakers (my roommates in my sophomore year of undergrad days were Japanese). I even studied in Tokyo, Japan for one semester in the summer of 2006, where I was able to utilize my language skills & really enjoy life overseas. There are still people from my semester abroad who I continue to stay close with, reminiscing about our summer together and realizing how much time has passed since then.
All because of a 3-week summer program in central Virginia the summer of 2002. In recent years, I've made excuses as to why I've not used my Japanese skills much; in the past five days, though, I had a lightbulb go off in my mind that–hell, I don't need to be surrounded by Japanese in order to be proficient in it. I've made a point that I will type/write/talk/read in Japanese at whatever chance I get. I may be annoying my followers on Facebook and Twitter with my sudden outbursts in Japanese. But I also realize that I must maintain my language skills, no matter where I am in the world. And with all the people I've met in the past ten years–I can achieve this and stay fluent in my adopted language.
Here's to many more years of Japanese~