The Pakems + Kid Project Giveaway ends today! Go over and enter to win a pair of low-cut Pakems now!
This post is part of a series of Support Local pieces on my blog. To check out other posts in the series, check the category "support local". 
I don't quite remember how I came across Pakems late last year: could have been another random Twitter find. Pakems is a Colorado-based company that makes portable shoes for after skiing/snowboarding and general travel for outdoor sports. From the Pakems website:
Pakems are lightweight, water-resistant, packable shoes engineered to take anywhere. They feature lightweight rip stop fabric, rubber soles for traction, and a strapped bag for packability.
I got myself a pair as an early Christmas present and I certainly have enjoyed this purchase. I've worn Pakems during the snowstorms earlier this year and they held up with their waterproof promises. The shoes are also good for slick sidewalks since I hadn't slipped in my Pakems when I wore them. The high-top shoes are great to keep my ankles warm, although I may cave and buy a low-top pair for other reasons, hehe.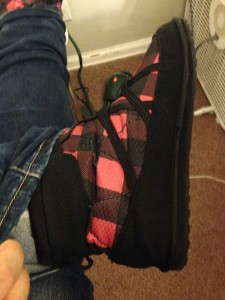 Pakems has shoes both for men and women, which come in a variety of colors and patterns. Each pair comes with its own carrying case so you can store away the shoes after you use them. Super fun!
Might be cute to see Pakems make kids' shoes in the future. For now, I say buy a pair for yourself and check them out. Ski season may be winding down in Colorado, but that shouldn't stop you from buying a pair for summer vacation hiking and other outdoor activities.
Pakems are currently sold in-stores at only a few locations, but you can always order your own pair on their website! Heck, why don't you take a stab at the giveaway ending today? You just might be the lucky one.
***DISCLAIMER: I received a discount on a pair of Pakems, so in no way did the company offer me a free pair. This post is written from my own free will, so it is not a paid advertisement from the company. 🙂