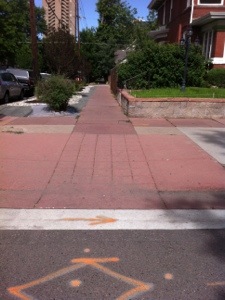 Today was Bike to Work Day; needless to say, I did not partake in it because I still have a fear of being out on the road alone like that. I kept thinking today, "If I had a helmet, I'd consider it." But alas, I do not have one yet.
In recent years, the cyclist culture has taken off: I remember while living in San Francisco, I observed Critical Mass, watching the swarms of cyclists go down Stockton Street by Union Square. Since moving to Denver, I've come to know the Denver Cruisers, B-cycle, etc. More and more people are commuting by bikes these days.
I want to ride a bike again; I did a lot of circling around the front yard when I was a kid. I remember the excitement I felt when I transitioned from tricycle to bicycle. I'd show off some moves to my mom and my little brother; once, I leaned over too far and fell over, skinned my knees. Oops.
Perhaps many of you know about my accident in 2010; major head injury and trauma. Since the accident, I have been super cautious about where I'm walking and making eye contact with the drivers when crossing ths street.
When I see cyclists zooming by cars on a red light, or cyclists drinking and messing around with public transit, I become very anxious (and angry). I fear I will see an accident happen before my eyes; I feel angry that the cyclists would be so bold to risk death for a good time, playing chicken with a heavy car or bus.
I know I should not be so fearful for others and for my own venture out with a bike again. But when you almost lose your life once, you want to preserve the second chance you got at life.
And that's why I'd rather walk or take public transit. Cycling appears too dangerous for my psyche still.