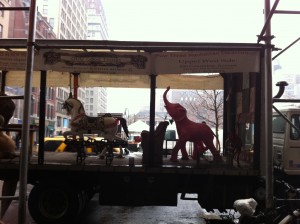 Drizzly, cold rain.
Earlier I took a stroll through Union Square to check out the Green Market. I've been here in New York for the past week, and so far the week has been an eye-opener on what I enjoy and what I don't enjoy.
Yes, I left San Francisco. And even though I feel sadness for leaving my loved ones and friends there, I had to leave.
Being back on my home coast feels comforting. I also got myself registered for a Gotham Writer's Workshop (1-day Intensive) at the end of the month. I'll study Food Writing; exciting! Perhaps that's my calling, at least in the nonfiction realm.
Well, back to the family for now.