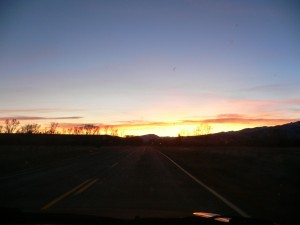 (Disclaimer: I am writing this post out of pure inspiration for the writer mentioned. I did not receive any payment for this.)
Have any of you all heard of Craig Lancaster? Maybe, maybe not. He's one of those underrated writers…needs more publicity!
Craig is a Montana-based writer and has published two books so far, 600 Hours of Edward and The Summer Son. I have devoured both of them this year (ok, not literally). Both books touch on the theme of father-son relationships, but…I feel anyone from any walk of life could identify with the parent-child relationship.
Also, I find both books' settings very intriguing (both set in Montana for the most part). Yes, I am biased in some ways, because I have been to Montana and I know how beautiful that state is. It's refreshing to read fiction set in off-the-beaten-path places. I think we have enough books set in New York or San Francisco or wherever else (not that that's entirely bad….). People need to give a chance to books set in small places/towns.
As for Craig himself, he is a very personable, kind man. I have had the chance to correspond with him via Twitter and Facebook; he responds in a timely manner and is always so gracious. I like that in any person I interact with, especially people who have more exposure to the public than I do. Shows that they don't let the fame get to their head.
Anyway, I just want more people to check out Craig's books. You won't regret it! Below are links to buy the books and also brief summaries of my reviews of the books (via Goodreads):
600 Hours of Edward ($14 plus $4 S&H via Craig's own website) – "600 Hours of Edward" was amazing to read. In many ways, I could relate to Edward's illness. But, despite the illness, I could see how Edward had the same issues to grapple with like anyone else.
Sure, at times it got a little annoying to read about Edward's timetable, but I also understood why he did the things he did. Obsessive-compulsive disorder is something that exists in basically everyone, but in varying degrees. (Side note: another cool thing about this book was that it was written during NaNoWriMo! Score.)
The Summer Son ($13.95 plus $4 S&H via Craig's own website) – This is the kind of fiction I like.
It was fate for me to pick up "The Summer Son" and read it when I did. I gobbled up the whole book in 2-3 days because it was so riveting. The storyline, albeit about a father-son relationship that's been tense for many years, spoke to my own current life situation so much.
Most importantly, the protagonist, Mitch, was very realistic, and not annoying (I've had my share of fiction with annoying protagonists in the past 2 years+). I could empathize with his internal struggles/thoughts about his father, someone he wanted to love more but couldn't because of secrets/a past Mitch didn't know about.
(Extra perk about purchasing the books directly from Craig: he signs each copy with special note!)