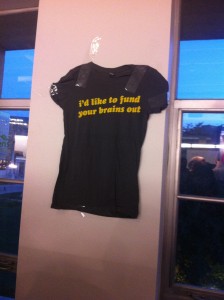 It's Denver Startup Week (DSW) here in town. So far, I have attended the kick-off luncheon w/Seth Godin, Tech Cocktail, the Leadership Panel at Basecamp, and Ignite Denver 15. Of course, being the #HashtagHustler, I have also been following the Twitter feed to see what kind of conversations will pop up on the hashtag.
While I am happy to see that this year's event is bigger with more tracks (Business, Design, Manufacturing, Tech, and then some ), Basecamp (WONDERFUL pop-up coworking/mingling lounge on 16th Street Mall), and a streamlined events calendar/agenda, there is still room for improvement for the next year (and beyond).
My mind came to these thoughts mainly from Andy Vuong's article, "Could Denver Startup Week eventually rival SXSWi festival?" Sure, Seth Godin gave us some blessings about how DSW is the largest free event of its kind in the world; we have that going for us as compared to SXSWi. However, the quality of DSW sessions are not at the same caliber as SXSWi sessions; we may boast 125 free sessions this year, but how many of them are worth attending? There's a reason why people pay good money to attend SXSWi. If we want to be competitive with SXSWi, we need to do the following:
If we're going to have the tagline "Celebrating Everything Entrepreneurial in Denver", we will have to move past the tech scene. Despite what many attendees may think, the events are not as diverse as they can be: tech is laced in with design & business, oftentimes being the focal point of those sessions. In fact, the most-tweeted/publicized events so far seem to be highlighting only Tech-related events. Unique offerings this year do include a manufacturing track and more food-related sessions (also some spirits-tasting). If we are going to celebrate EVERYTHING entrepreneurial in Denver, it is time for us to also think of the small business community here. Let's bring in some cafe/coffee shop crawls and sessions on how to start your own local thriving restaurant, bakery, etc. We may have 'separate' food events/festivals happening throughout the year in town, but many of our favorite neighborhood eats are also entrepreneurial. Just because their focus is not on tech does not negate them as being entrepreneurial.
Work with the Denver Metro Chamber of Commerce, the Mile High Business Alliance, and other organizations in town. This point goes along with above: the problem we have in Denver is that we are all stuck in our silos, our comfort zones. This year, Downtown Denver Partnership, Colorado Technology Association, and Chase are the top sponsors of Startup Week. What about asking the Denver Metro Chamber to sponsor as well? The Mile High Business Alliance? Perhaps these other organizations can provide more resources/sessions for years to come. Also, wouldn't it be nice to expand our events past downtown and showcase other great neighborhoods for our out-of-town guests to Startup Week? This could encourage them to consider moving to our beautiful city.
Use the #DENStartupWeek hashtag for more conversations and meetups.  This may just be a general problem in Denver and not just DSW. I have attended several conferences this year (Launch festival, Inc. Leadership, SXSW V2V) and there I noticed attendees utilized the hashtags to connect in-person, create pop-up parties, etc. Not only that, people were using the hashtag for plain ol' conversation on Twitter regarding the events. So far, I have seen a lot of retweeting the same tweets and not much conversation going on with the #DENStartupWeek tag. If we're trying to rival SXSWi and other conferences/events, we should be using our hashtag more effectively.
Where's the New Tech? Where are the true innovations? We hopeful attendees got to select the proposals for DSW a month ago; not sure if the organizing committee had some input on the final decisions or not. When the final schedule was released, I jumped onto the calendar to see which sessions I could attend. What I saw on the schedule were many hackneyed topics: funding options; how to deal with failure; programming; and the same monthly events that Denver always holds (Denver Founders Network, New Tech, etc.). The monthly events are fine, but the sessions? Most of the lessons from these sessions can be found online through an article, blog post, TED Talk, etc. I had a friend tell me, "It's much different to hear the advice in-person than via video," and I do agree with him on that. However, instead of having these tried-and-true sessions, why don't we mix things up? What about having someone present a new concept in solar technology that can then be made into the next great startup? What about new restaurant concepts? New design thinking, mapping, etc.? Let's be innovative and have sessions that are quirky, unique to Denver and Colorado. Let's make DSW worth the time for out-of-towners visiting us.
What about all the other great entrepreneurs/founders out there? Let's move past the local stars, i.e., Jim Deters, Bart Lorang, and Brad Feld, and get other founders up on stage/leading sessions for inspiration; let lesser-known (yet successful!) entrepreneurs have the spotlight for once. Don't get me wrong: I admire and respect the aforementioned people. However, if we continue to focus on only these major players, how can we innovate? Also, would be nice to see more female entrepreneurs on the main stage/bigger sessions instead of silo-ed off to a one-night session.
What do you think could be improved upon for next year's DSW? Do you agree or disagree? Would love to hear your insight.