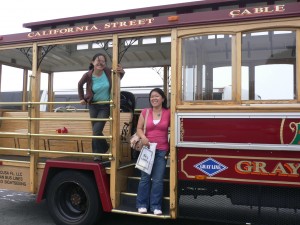 I just had to get this out; so many pet peeves of mine have come up regarding San Francisco, or, how outsiders think of San Francisco. Several of these things below I committed myself when I first moved there in 2007. Here's a little list for you to follow so you won't embarrass yourself when you get to the City by the Bay:
Call The City [San Francisco] "Frisco" or "San Fran" – Oh. My. Goodness. This drives me CRAZY every time! San Franciscans are very very sensitive to the way the City is referred as…."Frisco" and "San Fran" are NOT proper. Say this in front of a SF resident, get something tossed at you. Even I, who no longer resides in SF, get super-peeved when I hear people referring to SF that way. Always stay safe and say "SF" or "The City" or just plain "San Francisco". You'll get more points in fitting in that way.
Make the mistake of walking hills for two blocks – Yes, I did this when I first moved there. I remember looking at a map while apartment hunting; saw that, once I got off the bus, I only needed to walk a few blocks this way and that way. Little did I know….this involved the hilly streets in Nob Hill. Oops. I was panting by the end of my trek and I didn't even get the apartment there. Note: I was panting after my walk because this was way before I got acclimated to Denver's higher altitude.
Think MUNI & BART mean the same thing and go the same places – Another one of my mistakes. Actually, before I even moved out to San Francisco, I thought BART was the only transit system in the city. I remember asking people on a Livejournal community (Oh….so long ago) about good places near BART stations in SF. I got a lot of confused responses from people. I arrived and realized oops….BART = Bay Area Rapid Transit. I should have been asking about MUNI instead (also, there's the Golden Gate Transit and several other Bay Area transit systems running amuck within the city).
Take a MUNI train the wrong direction and end up in a bad neighborhood – Ok, this didn't happen to me, but I've heard this happening before: PAY ATTENTION TO WHICH DIRECTION YOUR TRAIN IS GOING. Usually, the "Outbound" trains are going towards Sunset/Ocean Beach. "Inbound" is going downtown. The only line that's a little different is the T line….and please, you don't want to make the mistake of taking the T Line the wrong direction. You might end up in a really bad neighborhood.
Prior to arrival, make a comment about how San Francisco is "sunny and warm" – Such an assumption about San Francisco and California in general: San Francisco is foggy and "cool" for the most part. Temperatures range from 50 – 70 degrees year-round. Denverites, you've already heard me comment on how the weather is there: 50 degrees in SF is when people wear their huge winter jackets. In Denver, we wear shorts at that temperature. 😉 Anyway, don't be fooled to think all of San Francisco is ALWAYS sunny like Downtown/Chinatown/Fisherman's Wharf. The city has many micro-climates, so you may be riding a MUNI train from downtown to Ocean Beach and come across patches of foggy neighborhoods, sunny neighborhoods, and even cloudy neighborhoods. Always be prepared for the micro-climates!
Not realizing the high cost of living before you move here – Oh yes; one of my biggest mistakes, but then again, I had just graduated from college and had no idea of how different the cost of living was throughout the country. I landed in SF, went apartment-hunting, and found my first studio by Pier 39. Monthly rent? $1,450 … and I thought that was cheap. Oh…naïveté. Do your research beforehand! Ask any locals about certain neighborhoods if you can; generally, I've found living by the ocean (the Sunset or the Richmond districts) is relatively more affordable than living in SoMa or anywhere downtown. To find much more affordable places, you will have to look outside of The City, but then you'll need to factor in commute time if you work in SF.
Think Bay Area = San Francisco – Ok, so San Franciscans like to think they are the only ones that exist in the Bay Area. But, don't fall for that trap: the San Francisco Bay Area consists of many more cities and land than you may think. The North Bay is connected to SF via the Golden Gate Bridge; the towns up this way range from rustic to slightly ritzy, depending on how north you go. The East Bay is connected to SF via the Bay Bridge; go here for Oakland, Berkeley, etc. Walnut Creek is a nice little town out east. Then, there's the Peninsula, Silicon Valley, and the South Bay: generally, South Bay refers to San Jose area. Silicon Valley and the Peninsula are all the towns in between SF and San Jose.
And there you have it: a not-so-definitive guide about San Francisco and how to draw less attention to you, the tourist or the newbie in the city. Take heed of these guidelines, and soon you'll be able to fit right into the crowds in SF.