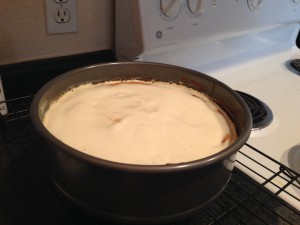 Today was the first time in over ten years that I baked a cheesecake. I remember when I first learned this recipe, my oldest sister helped me with the whole process: mixing the cream cheese and sugar together, beating the eggs, combining ingredients for the sour cream topping, etc. I was a teenager and I wanted to learn how to bake, so this was what my sister taught me for my first baking lesson.
I have kept this recipe with me over the years but never really thought to try baking the recipe again until Ryan and I met: Ryan's favorite dessert is cheesecake! Last year I attempted this cheesecake recipe with three mini spring pans and that failed miserably; didn't really help that the oven at my old apartment was quite finicky, so we ended up tossing those failed mini cheesecakes. 🙁
But today, I decided to tackle the recipe again and actually added in the lemon zest (I never added lemon zest as a teenager). Here's hoping the cheesecake tastes as heavenly as I remembered it!