Last night, I was dragged along to attend the Pillow Fight set at 6 p.m. in the Justin Herman Plaza aka Ferry Plaza. I didn't participate in the event, but I did observe the frenzy and took pictures and videos of people hitting friends and complete strangers with pillows. It seemed stress-relieving and just overall fun; at the same time, though, I kept thinking about who was going to clean up the mess and whether there was a risk in injuries.
The preparation for the outing was already amusing enough: going into Ross was like Christmas shopping all over again, except everyone was shopping for pillows, not gifts. The line for the register was insanely long, with some people grabbing more than one pillow, and some settling for couch cushions since the selection on pillows had run low/sold out.
Then, walking towards the Ferry Building, I just saw a ton of people walking/running/hopping along carrying their pillows. Many onlookers weren't even aware of the event, and those who were interested had to scramble for an extra pillow of their own. Others just kind of looked for a moment and then continued on with their Valentine's Day festivities.
Once the clock struck 6:00, the crowd walking towards the Ferry Plaza soon became a running mob; I arrived at the scene to a ton of people hitting each other with pillows and feathers already flying. Some people were perched atop the trees in the plaza, watching safely from above, while the other observers and I stood in the outer realms of the plaza and took our pictures with abandon. Feathers, feathers, everywhere.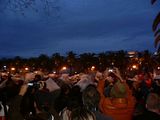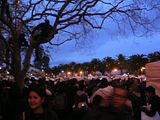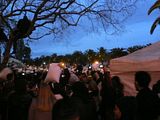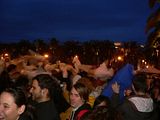 While observing the organized chaos, I felt quite a bit of emotion within me, mainly over the fact that something like this could only really happen in San Francisco. A pillow fight event elsewhere? Maybe in New York, maybe not…maybe in other places? Maybe not. This was something I felt I had to experience at least once, and I was glad I was able to go, even if I didn't actually partake in the frenzy. It was a good change of pace from the mundane ways of life.