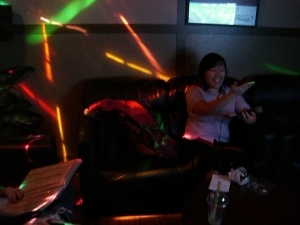 Karaoke is one of my favorite activities: when I started college, I discovered Asian-style karaoke with my friends since we lived near a large Korean community. We went to karaoke on the weekends and got our own private room to sing our hearts out for several hours. When I studied abroad in Japan in 2006, I was in karaoke heaven: karaoke places all over Tokyo and very cheap!
Sometime in the past several years, I realized I hadn't done American-style karaoke before: the kind where you get up in front of a bar and sing to a tipsy/drunk audience. Even though I felt nervous singing in front of strangers, I suggested hitting up a karaoke bar to some friends in Denver. We went to a Czech bar on a Saturday night and put in a few of our songs into the queue.
We stayed for a couple hours, cheering on other participants and waiting for our songs to appear in the queue. I felt a rush each time I went up to sing; despite the audience being drunk/tipsy, it was fun to hear them cheering me on. After that first time, I have been to American-style karaoke several more times in Denver, Las Vegas, and Austin.
I still prefer Asian-style karaoke (I enjoy singing in front of friends more than drunk strangers), American-style karaoke is still a great activity for me to do with friends. I am glad I got this crossed off my 30 Things Before 30 List though.