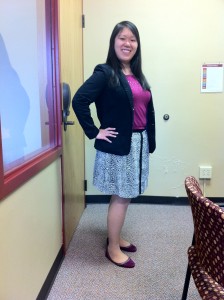 I've started running again and am currently training for next month's Fight For Air Climb in Denver at the Republic Plaza (psst, click the link to donate to my team! /plug) and also a 5K over Memorial Day weekend (which race is yet to be determined). While running with Ryan today, I got to thinking about the setbacks that have occurred in my life in the past decade, such as my incredible weight loss from 2007-2010 and then gaining that weight back in the past few years; what especially stood out as a major setback though was my whole experience with TAOpivot, my first company.
Right now, I am in the midst of working on the launch of my third company, a social media marketing business; you may have seen the name floating around a bit on Twitter. I was thinking about how, with this being my third overall business and my second business with a big online presence, I want to do things differently and better.
With TAOpivot, I was passionate about my mission in helping foreign nationals get internships and jobs in the U.S. However, the way I ran the business could have been much better: for once, I could have been a true bootstrapper and really squeezed my pennies at the start. However, at that point I also believed in investments and threw my money at things I thought I absolutely HAD to have: for example, office space. I didn't need the office space at all, yet I still put money into it thinking that having the separate space from my apartment would help me work more efficiently. I also thought that having the space would allow for me to look more professional when it came time to meet with prospective clients.
Looking back now, I see how I could have been better with my investments and would have been good to forego the office space in lieu of just renting meeting rooms at coworking spaces. Would have been much more affordable!
Another setback I learned from TAOpivot was my pricing structure, which ultimately killed the business: I first priced my services at a premium because I felt that it was indeed a unique business that deserved the high price tag for the value I was providing. However, since I was also asking for the foreign nationals to pay TAOpivot (instead of U.S. employers), I was working with prospects who were not very willing to part with large sums of money for a relatively unknown American company. This discouraged me, so then I set my prices rock-bottom.
The change in my pricing got me many more clients, but they were the kind who wanted to milk every ounce of their money out of me: I even had one client who sent me 40+ job postings and demanded that I write cover letters for ALL of those postings! This burnt me out in the end since I was working way too much for too little money.
With each of these setbacks, I may have been discouraged at the time being, but now looking back, I see that I have learned from those experiences. That's why I believe that any setbacks in life, whether in career, relationships, etc., are there for us to learn from. It's only considered failure if you never learn from those setbacks.