Sprinkled throughout this #30PostsBefore30 series will be recaps of some items I had completed from my 30 Before 30 List. I don't remember when I started my list, but it evolved over the last several years. I didn't complete all 30 items, so that's why I will only write about the items that I did complete.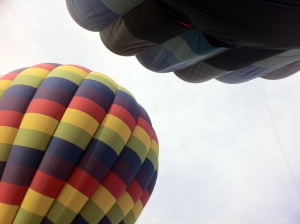 When I put on my list "Go on a hot air balloon ride," I was not sure how I was going to accomplish this goal. Who was I going to go with and how much would it cost?
Luckily for me, in 2013 the Yelp! Denver staff arranged for a lucky few Yelp! Elite members to have the chance to take complimentary hot air balloon rides. I invited along my friend Davina and we headed up to Boulder early one morning.
Breakfast was served before we hopped into our balloon: there were only about 4 other people who were in our balloon. It was a clear morning and we had a great view all around us. There were two other hot air balloons (through different companies), but we were the first one to set sail.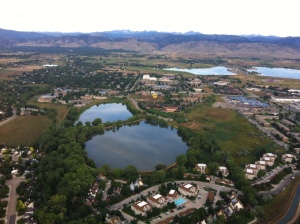 I felt still and peaceful as we floated above the land to our destination stop. After we landed, we took a shuttle back to the starting site and enjoyed mimosas for a safe ride.
I'd love to be able to go on a hot air balloon ride again, and it's good to know that I can reserve a ride easily up in Boulder.