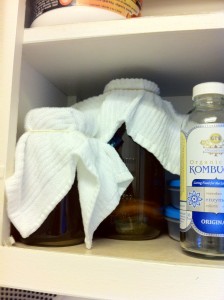 I don't remember when I first tried kombucha, but I know I enjoyed this slightly bitter and bubbly drink after the first time. In early 2012, I became curious about brewing my own kombucha at home; coincidentally, at that time I was a member at Creative Density, a coworking space in Denver, and another member was very much into brewing his own kombucha. We got to talking about the whole process and then he offered to give me one of his parent SCOBYs and his recipe.
After that, I dived into the world of homemade kombucha, following the guy's instructions on how to brew my drink. I bought mason jars and hand towels to hold my kombucha: the brewing process took about 3-4 weeks in order for the tea to fully ferment. When I tried my first batch, I was hooked!
So all summer that year I made my own kombucha; because the SCOBYs grew "babies" each time I made a batch, I started to accumulate way too many SCOBYs. I knew my acquaintance didn't need any more SCOBYs since he probably had an excess of them as well, and I didn't know anybody else who was brewing kombucha. Sadly, I had to throw away a lot of the SCOBYs since I couldn't keep them all (my fridge was getting too full).
My passion for brewing kombucha slowly tapered away as I grew tired of waiting for each batch to be ready; I had also moved into my second apartment in Denver and had limited counter space to store the kombucha, so it became inconvenient.
I remember one of my last batches: I sipped the finished batch to taste it and it was highly acidic. At that point, I wasn't sure if I had botched up the brewing process or not; however, I also took that as a sign that I was now finished with satiating my curiosity on the home brewing process of kombucha. So I threw away the last of the SCOBYs and stopped making my own kombucha.
These days, I don't drink kombucha as much as I used to, but I am thankful for the opportunity to learn to brew my own kombucha back in 2012. After all, now when I do have some kombucha, I am much more appreciative of the hard work put into the process.