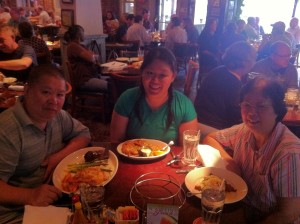 I find it appropriate to write about this life lesson on the 39th anniversary of my father arriving in the U.S., which changed our family's destiny from living a peasant life in China to living the American dream. My father's story will always inspire me to be a better person (more on this in another post, perhaps).
—————————————————————————–
Growing up, I always knew family was most important in my life, but living a typical adolescence, I also strayed from spending time with my family during my teenage years. Ah, those growing pains of not wanting to be close with family anymore at that point; my friends knew me better than my family did! Or so I thought.
As I matured and watched supposedly close friends drift in and out of my life, I see that the constant in my life has been my family: whenever I go home to Radford, it's always to see my parents and rarely anyone else. Granted, I've only really been home over Christmas during most of my 20s post-college, but still: the only reason to be back in Radford is for my parents and my siblings, who fly in from all over the country to spend Christmas altogether.
When that freak accident occurred in 2010, I was already with family: two of my female cousins and my younger brother, Adam. However, I had blacked out before impact and was unconscious until the early morning of my 25th birthday. The first person I saw after I finally came back to consciousness? My brother, Adam. He had stayed by my side the whole night, unsure of whether I was alive or dead.
During my intermittent periods of being conscious/unconscious, I remember seeing many people visit me in the ICU: my co-workers, my friends, my cousins, and then, last but not least, my parents and my sister, Lisa. They immediately booked tickets to San Francisco and arrived at the ICU on February 1st. When I saw them, I remember waving at them in my stupor and then blacking out again. Later, my sister Lisa told me how, when they all first saw me in that hospital bed, she and our mother started crying and our dad was furious, wanting to find the man who hit me and give him a piece of his mind.
My parents stayed with me that whole month of February, not even questioning what to do about our family restaurant back in Radford. They stayed with me to make sure I would heal well; to take care of me and Adam during the tough time post-accident. My oldest sister also visited during that month; my older brother helped Adam and me out with expenses so we wouldn't have to worry about things while I was incapacitated.
Five years later, I still think of that accident as a prime example of my family coming together and reminding me that family is most important. There are many other examples I could write about, but that one rings the truest in my memory.