How I Learned Crochet and Knitting
I first picked up knitting needles in college, when a classmate taught me how to knit a scarf. I found the craft soothing once I got the hang of the knit stitch, but then quickly became bored as I just kept going back and forth, back and forth (and as most of us know, scarves are rather long…). This scarf was an on-again, off-again project for roughly 7-8 years.
Prior to moving to Denver, I finally completed this scarf and reignited my interest in knitting and met a couple of like-minded individuals who also knit. I bravely ventured into circular knitting, but double-pointed needles (DPNs) intimidated me.
In the summer of 2012, I had a weekly Saturday morning crafting meetup with my friend Kelli who amazed me with how quickly she crocheted hats. Crocheting seemed easier and faster than knitting to me: here I was, sitting across from Kelli, getting in 2-3 rows on my knitting project each Saturday while she began and finished a hat during those few hours together. That summer, I asked Kelli to teach me how to crochet.
Learning anything new always has a learning curve though: it took me some time to get used to holding the yarn with my left hand and seeing where to poke the crochet hook into in each row/round. I made many mistakes in my first several crochet projects: adding too many stitches per round, using the incorrect hook/yarn size to create bucket-sized hats, etc.
For several years, I focused solely on crochet and thought I wouldn't get back to knitting–until I started working with a local yarn shop on its social media marketing in late 2016. Then, I decided to restart my knitting journey.
How Many Projects Could I Complete in One Year?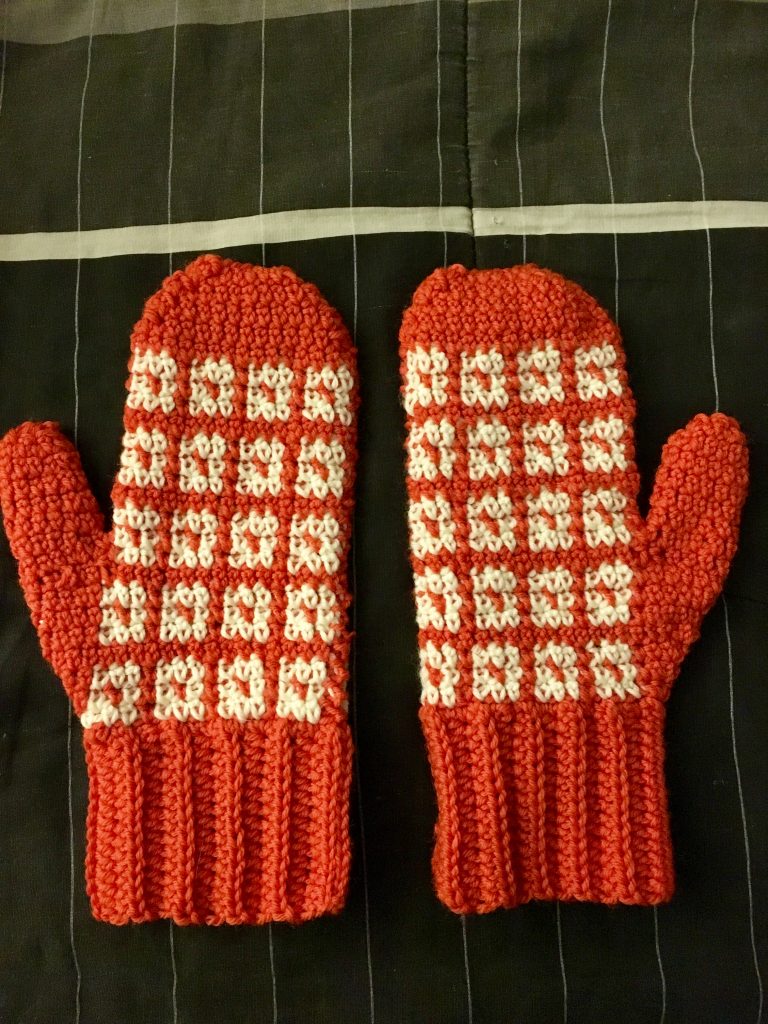 After restarting my knitting journey in 2017, I also started using my Ravelry account a lot more (Ravelry is a treasure trove for knitters and crocheters: find patterns, yarn information, communities, etc. and also store your own yarn collection aka "stash", projects, et. al.). At the beginning of 2018, Ravelry came up with its "Challenge" tab, which allows for us to decide how many projects we wanted to complete that year. I hadn't kept track of how many projects I had worked on every year, so I wasn't sure how many projects I was actually capable of completing within a year. Still, that didn't stop me–and I decided to challenge myself to complete 30 projects.
I didn't have much aim on what *kind* of projects I wanted to complete–I just wanted to prove to myself that I could finish 30 projects. I spent time in 2018 doing more skill building projects with knitting, but with crochet, I generally chose projects that were easy/quick for me to complete–especially towards the end of the year, when I felt the self-imposed pressure to reach my goal, no matter what!
An Attempt to Focus on Building Skills
By the end of 2018, I felt tired, even though I was also glad that I did reach my goal of completing 30 projects. In 2019, I aimed to focus more on building up skills in both crochet and knitting to challenge myself that way–yet I still also set a goal of completing 20 projects by the end of the year.
I made a list of ten skills I wanted to learn in 2019, and was able to accomplish three of them:
Crochet a seamless, top-down sweater
Knit gloves
Use crochet thread (I admit, this goal was an impulse one when I decided that I wanted to use crochet thread to make a tank top…)
Alas, the challenge of completing 20 projects ate away at me again, so towards the end of the year I focused on that vs. skill-building. Throughout the year, I also became distracted with test knits and samples that designers/dyers were requesting their audiences for, plus the self-imposed pressure of making Christmas gifts for my loved ones stressed me out.
2020: Re-Focusing (Soon)
In the last quarter of 2019, I made my 2020 Craft Goals list and shared it with my crafting friends: many of the goals are "recycled" from 2019 since I hadn't been able to get to them. I haven't set a goal on my Ravelry challenge for this year, because I find that setting a number of projects for myself has caused me more stress than necessary.
I've also had a couple of "reckonings" in the past several months when it comes to me and crafting: I add too much pressure upon myself to keep making gifts for loved ones, and I realize that loved ones will love me regardless if I have a handmade gift for them or a store-bought gift (or none at all–2019 was a tough year, financially). Also, even though I enjoy giving of myself and making for others, I know that I end up hurting myself more: when I first started my knitting and crocheting journeys, I was practicing the arts as a form of stress relief and self-care. Over the years, the practice has become more stress-inducing since I am naturally a people-pleaser, and when someone expresses interest in something handmade, I jump at the chance of helping them out.
So, after I complete a few projects these next couple of months, I plan to be much more intentional about spending my crafting time for myself, since I see that I have neglected my self-care through this practice.