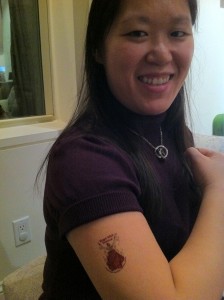 I went to a One-Day Intensive Workshop today with the Gotham Writers' Workshop here in New York. I took up this opportunity since I knew I was going to still be in town for a few more days.
I had many different workshops to choose from, but I decided on Food Writing. I admit, my poor food blog (Cinnamon Juice) has gone the wayside for awhile now. I loved the instructor, Fran, a lot and I enjoyed listening to all of my fellow classmates talk about their experiences with food writing and also hear them read their writing exercises out loud.
I walked away from the class feeling a little better about my blog. I know I need a focus on it, but I cannot think of a niche I want to feel. It is an ongoing battle for me. This blog (official one) serves as a dumping ground for general thoughts. That is fine. But every time I get a new idea for a new blog, I find myself caught up in fear as I realize I do not have enough material (nor do I feel like making much effort) to blog on a regular basis.
This is the first time for me to actually stay consistent with blogging even on this blog. Well, ok, I am partially lying. When I was using Livejournal last decade (wow, I sound old…), I used to write entries everyday…sometimes even more than once per day. Then again, back then I focused more on my personal life and its little details. Also, that blog ended up becoming "friends only" – locked.
Now, this blog may have skewed towards a more personal slant this year, but I know my boundaries a lot better than when I was younger. I know not to mention certain aspects and I know what I want to share and what I don't want to share. It is that easy.
But of course, back to niche blogging. As soon as I think of a niche I freeze in my tracks and realize I do not have enough material. And when I think of a topic that has been done before, I have self-doubt that nobody would be interested in hearing my viewpoint because it has "already been done before."
Well, I am glad I took the class at Gotham and I hope to hone my craft in food writing a bit more. I will announce my food blog plans in upcoming posts, once I get some ideas generated.