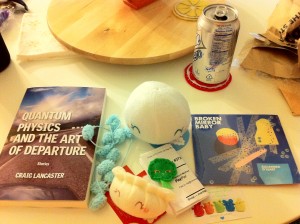 What a refreshing voice to listen to; Alejandra O' Leary is a Michigan-based artist with musical influences from the Beatles. I'm sure there are other artists that influence her style, but, as I listen to her album, "Broken Mirror Baby", I get the Beatles vibe.
"Broken Mirror Baby" was released in September 2011 and is Alejandra's second album. I had the pleasure to interact with her a lot via Twitter, so I know she is a hard-working and sweet person.
Below are my album notes:
1. @ the club – The song starts out innocently enough with Alejandra's crisp vocals; in fact, the song almost appears like a happy one. Listen to the lyrics and you'll realize the sad theme of a man cheating on his girlfriend.
2. K.Y.O. – I wondered what the title of the song meant, since I hadn't seen that acronym before. The song starts off with a nostalgic guitar medley, making me think about 1960s rock bands. As the song's chorus comes along, you'll discover what K.Y.O. means. Clever!
3. When Will They Learn? – This song is a little more laid-back/casual from the first two. Sounds like a song from the 1980s, which I like.
4. On Your Dime – First Beatles-reminiscient song of the album. A little sunshine, a little melancholy.
5. Connect with Me – Also Beatles-reminiscient. Love the casual ballad feeling of the song & the guitar solo in the middle (this part DEFINITELY made me think of the Beatles). A little sad to realize the woman is an alcoholic.
6. Broken Mirror Baby – LOVE THIS SONG. It is my favorite of the album; a good mix of retro and modern feel. The bridge really keeps me hanging onto the rest of the song. This song is good for when you're angry with a significant other or ex.
7. Horses – Synthesizers, commence! You might think it's a completely synthesized song, but Alejandra and her band jump right in after the opening. I like how she incorporates "hold your horses" into the chorus.
8. The Habit – Upbeat and blunt ending to the album. "You're not fooling no one!"
Although the album is short and sweet, I love it: just the right number of songs to enjoy. Would like to see a few more songs on the next album, if time permits!
Overall, I love Alejandra and her songs. I look forward to seeing her career blossom and hopefully meeting her in-person one day.