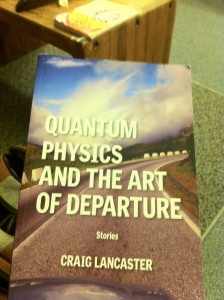 I have not been shy about how much I love Craig Lancaster's writing. His two novels, 600 Hours of Edward and The Summer Son, simply blew me away. And now, Quantum Physics and the Art of Departure, Craig's first collection of short stories, goes right up there with his novels.
At first I wasn't sure if I'd enjoy the short stories, since the first one, "Somebody Has to Lose", moved along slowly. Once I got past a certain point in that story, though, everything began to fly.
The stories in Quantum Physics are all about very human lives set mostly in Montana. I feel the book proved to the outside world how people in Montana are pretty much the same as anyone else. We all experience the same problems in life, no matter where we may live in this country, in this world.
I really enjoyed how unfiltered Craig was in his writing: if you want to read a flowery, family-friendly book,  look elsewhere. Every story includes an element we all wouldn't openly admit in public : affairs, experimentation, sexual abuse, etc. These are touchy topics, but it is refreshing to have these written about in such a matter-of-fact way.
My favorite stories out of the collection: "This is Butte. You Have Ten Minutes.", "Cruelty to Animals", and "The Paper Weight". All ten are wonderful to read though. Don't miss it!
Check out Craig's author page on Amazon for information about his books: Craig Lancaster