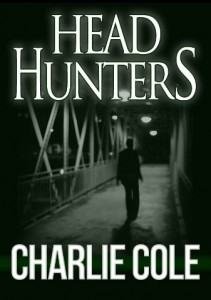 TODAY ONLY: Get Headhunters for your Kindle FREE!
There's a monster at the end of the book, and Charlie Cole sure knows how to work that magic. This is my first time to read any works by Cole, but I already feel that he is an expert writer. I feel honored to write him a review since, in the short amount of time we have known each other (via Twitter), we are becoming quick colleagues.
Headhunters starts out with a bang: Simon's wife Claire leaves him chasing after her in their respective cars. Then, she dives to her death over the railing.
And the book continues to spin like crazy, with Simon constantly getting curveballs thrown at him as he moves from the Washington, D.C. area to Chicago. He thinks he's safe there, but then, the chase continues.
Although the subject of the matter is deep and dark (Simon is a secret agent), there are a few times where I end up laughing, i.e., the reference to "literal dead weight". Also, Cole puts in a quite X-rated scene in the book to lighten things up a bit. I almost felt ashamed while reading that aspect. But then the thrilling parts came back again.
I normally wouldn't read a book so suspenseful/thrilling/disturbing, but I really enjoyed Headhunters. I practically could not put it down the whole time. Too bad I have classes…I could have finished this book in less than a week. Next time, perhaps? (I love speed-reading but not when there are a billion other things to complete).
If you like a ton of suspense, mystery, action: read Headhunters. You won't be disappointed. And look out for Cole's next novel, Suicide Doors, coming out in April.