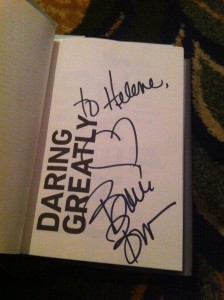 Last week, I had the privilege of attending Inc. Leadership Forum in Carlsbad (San Diego area), California. It was 3 days of learning and connecting, and I cannot thank Inc. Magazine enough for sponsoring my pass. There were many great speakers including Brene Brown, Lewis Schiff, and Chester Elton.
Below are my takeaways from the forum:
Lesson 1: Company culture is top priority. Felt like Day 2 (June 11) was so full of talk about company culture; it was definitely a big theme of the conference. If company culture is not tailored to you, the leader's, style, then everyone makes their own micro-cultures. Make sure all leaders are onboard for compromising an effective company culture.
Lesson 2: Make hiring process effective from the very beginning. Vanessa Merit Nornberg rocked the stage during her session; some attendees felt she was "too scary", but I really liked how straightforward she is about her hiring process. She takes no crap, and I feel more employers should take that route. Have a system in place to screen out candidates fairly; screening questions (your own, not auto-screeners) can help determine if the candidate is the right fit or not.
Lesson 3: Make company values & mission statement short and memorable. Chester Elton (among other speakers) talked about how these two components of a company's credo should be easy to remember. Know your company values and mission well, but have it be short enough so that employees (both current and future) will be able to remember them.
Lesson 4: Know your priorities. Don't get lost in the mess of your day-to-day work; remember your priorities and let those preferences fall into place throughout the day. Be true to yourself and your company.
Lesson 5: Vulnerability is a strength, not a weakness. Dr. Brene Brown was amazing, and really touched everyone with her talk: yes, it is time for us all to stop thinking vulnerability is a weakness. However, also be picky as to who you share your stories of shame/vulnerability to; people have to earn the right to know your stories.
Lesson 6: Reset throughout your days & weeks. Bonnie St. John–so inspirational for everyone! She reminded us of how entrepreneurs just go nonstop…when in reality, even pro athletes take time to recover. We entrepreneurs need to make time to recover as well, mentally and physically. Stretch more, meditate more; just take some time to relax.
Lesson 7: Recognize your employees for their great work. Employees (and everyone else for that matter) cannot read your mind; communicate your specific needs/tasks for your employees to execute successfully. When they do a great job, make sure to recognize them for their hard work; no general thank-yous. Make things personable. Thanks to Chester Elton for his royally entertaining yet insightful talks!
This summary does not do the whole Inc. Leadership Forum any justice, but it'll do.
Admittedly, this information is not new to the world or to myself. Still, it was great to listen to so many inspirational leaders and connect with other likeminded individuals. I made some really great connections and genuine friendships. Finally, I know people from Austin, TX!
I was telling my colleague about how going to a conference is like going to an academic class: we can all read/skim as many articles/books online as we can about a subject matter, but listening to speakers in-person really cements the lessons learned.
Then, it is time to apply what we've learned. I need more time to process all the information gained, but soon I will be ready to apply the knowledge.