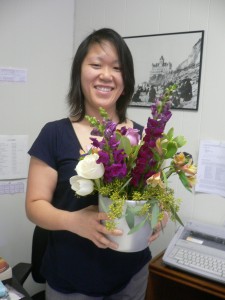 Perhaps this topic has been beaten to death with the plethora of articles out there about "how to ACE that interview", etc. But I figured–might as well put a spin on the topic with my own experience.  I've been through my share of interviews: some of these I left feeling so clueless. It was hard for me to talk up much experience when I only had experience working at my parents' restaurant and doing some online forum moderation.
Despite these supposed setbacks from my early 20s, I was able to ace a few interviews just by being myself. And…by doing the following:
Greet the staff politely, with a smile – Common courtesy, folks. Greet the receptionist, the co-worker, whoever you meet first at the office. You just might be working with them in the future, so first impressions are important! Easier said than done, but get past those pre-interview jitters with a smile towards the first staff member you see. Maybe even make small talk with them if they are available to talk. It'll calm you down.
Wear business clothing (suit if possible, for both men and women) – Of course, this sometimes depends on what kind of job you're applying for; however, I feel it's always a safe bet to go overdressed than underdressed. I did this with my interview at English Language Institute: a nice suit jacket and slacks complete with a sleek purse/bag. Yes, I might have been overdressed, but I certainly made an impression (got the job a week later!).
Have a few interview answers ready, tailored to company – Preparation is key! Find a list of interview questions–either online or in book form–and have your answers ready. Make sure to talk about relevant skills to the job and company you're interviewing for. And then…
Do your research on the company and go prepared with questions – Most, if not all, interviewers enjoy answering questions about Company X. It shows you've done your homework! And if you think it's not important to ask them good, relevant information about the company, you are wrong. DON'T ask the interviewer about how much your job will pay; that just makes you sound greedy. Ask about the history of the company, or about the CEO's background, etc. SHOW GENUINE INTEREST. This is especially important for small companies!
Take note of the interviewer's answers; jot them down – This won many points for me when I interviewed with one company; the business owner was impressed that I took the time to write down her answers! This shows that you care about what the interviewer has to say; that you're detail-oriented; that you're, well, respectful! I recommend going in with a legal pad or a regular ruled notebook. Don't go for the notepads or your tablet/smartphone: both look bad in this situation.
Send a thank-you note afterwards – In all my past interviews, I make a point to send a thank-you note via email (considering, in this day and age, quick responses = quick results?!). Just thank your interviewer for their time and what you enjoyed learning about Company X. Send this thank-you note between 12-24 hours after the interview so to keep your name fresh on the interviewer's mind.
Follow these tips of mine, and you just might land that dream job of yours. Of course, if you want to, consult other interviewing how-to articles for the usual stuff; nothing beats past successes though.