On my 30 Things Before 30 list, I wrote that I wanted to commit to three months of yoga; after the three months, I would then decide whether I'd stay with the routine or move on to another activity.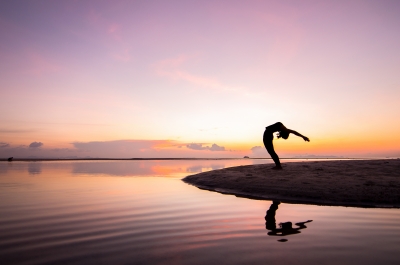 In late 2013, I needed something to stay consistent in my life since many other aspects of my life were in flux. I decided to register for a membership at Kindness Yoga, a great local studio here in Denver. My friend Cassie had already been a member for several months and invited me to try out a class with her. Then, I tried out several types of classes over the course of a week since I had a free trial.
I liked what I saw from the classes, so I signed up for a recurring monthly membership. I made out my schedule to include five sessions of yoga classes each week. I gravitated towards several instructors who had great overall instruction, combining both the physical and the spiritual aspects of yoga in our classes.
When I began my classes, I admit I was quite self-conscious due to my body shape and the fact that I hadn't been so physically active prior to joining the studio. At Kindness Yoga, though, I noticed that the instructors practiced what they preached: they were accepting of all body types and the instructors were patient to teach variations of different poses for those who needed easier/more difficult poses to practice. By the end of about a week of classes, I found myself letting go of that self-conscious feeling as I became more comfortable with the environment, the atmosphere, and the attitude of my fellow classmates.
I found myself more at peace and much more flexible after practicing yoga for three months straight. It became the highlight of my day, especially when daily stresses got to me. I always left class feeling relaxed and in a better mindset.
I currently have not practiced yoga in over a year now, mainly due to focusing on getting back into running shape and other priorities popping up. However, I do hope to get back into a yoga studio again soon since yoga does do me some good in my spiritual, emotional, and physical self.