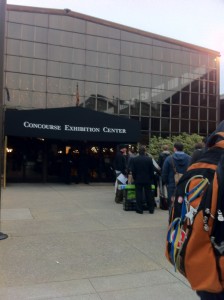 Alternate Title: Why Employers are Being Unfair with Their HR Methods
Lately, this topic seems to come up a lot among my peers and my clients at TAOpivot: "Why do I have to have years of experience when it is an entry-level job?" "Why can't I get paid for my worth?" "Why can't I get a job out there with benefits, health insurance, etc.?" and on and on.
All very valid questions and I completely understand the frustration; I experienced this in my own job search after I got my Bachelors degree. I moved to San Francisco, naively thinking that, despite no relevant work experience I was sure to land something entry-level.
I did and I did not: I was left with a lot of the same questions I listed above. The catch-22 of a job-seeker with little to no work experience: how to gain experience if nobody is willing to hire and train me?
I believe these days, entry-level work does not exist anymore. Three reasons why:
Company staff are running lean; they do not have the time or money to have a staff member train a new employee, especially one without experience. The company must focus on how to utilize their available staffing in the most versatile way.
Because companies are running lean, they feel that inexperienced candidates would only cost the company more (time, money). These companies may or may not have perpetual "interns" who end up doing too much of the slush work.
Saying "entry-level" in a job posting plus "5+ years of experience" will certainly lure someone more experienced to be paid at an entry-level position…..because everyone falls for that, right?
The three reasons may all sound the same, and they pretty much boil down to one main point: the economy is still pretty crappy. The way businesses are run is changing in this new landscape where no longer do people stay at one job all their life: they may end up job-hopping a lot before they find a job that they will stick with. Employers are not happy with this kind of landscape because they could lose valuable talent right away if a better offer comes along.
But, these reasons should not cause for employers and HR managers to shy away from adapting to the new environment. And, most certainly, I find when job postings state both "entry-level" AND "requires 5+ years of experience", that that is just unethical.
I know that companies are running lean; even my own startup is lean. But at the same time, I believe that the many jobless job-seekers out there can really help the economy if a few more employers actually played fair and were open to taking on entry-level/newly graduated job candidates and pay them their proper share.
The economy is not going to fix itself with a magic wand. We must make incremental changes in our own mindsets and how businesses are run in order to give our fellow Americans work and allow them to help alongside and fix our economy.