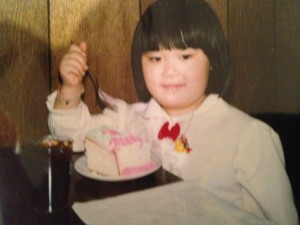 Like most immigrant parents, my parents wanted my siblings and me to have a more-or-less typical American childhood, with our Chinese heritage weaved in there for good measure. We participated in activities through school: sang in choir, joined after-school programs, et. al. I know for certain that my sister Lisa and I were in Girl Scouts when we were kids (unsure of my oldest sister though).
I joined Girl Scouts because my sister told me how she enjoyed the program. One of my classmates' mom was a troop leader, so I joined her troop as a Brownie and stayed up through sixth grade. I didn't quite understand the concept of badges, other than the fact that perhaps I should collect as many as possible. I admit, I cut a few corners when it came to earning badges in Girl Scouts (maybe I wasn't the only one? Who knows…), and our troop leader didn't have much of a verification process, so badges were handed out like candy.
My sister and I were stars at selling Girl Scout cookies though: we had the advantage of our parents' restaurant, all their employees, plus customers and family friends. We would pin up our order form in the restaurant and retrieve the full form at the end of the order period; it was very effortless. When it came time for the cookies to be delivered, we would accumulate many boxes of Girl Scout cookies in our study upstairs in our house and spend time counting out each cookie box and type to set aside for our customers.
One early memory of my being in Girl Scouts and then realizing I was different from the other kids happened sometime in first grade: I was inviting home a classmate to play with me after school! I was excited and remembered I couldn't wait to show my classmate my toys. We got a ride home from my dad and was greeted by my grandmother. I spoke to my grandmother in Taishanese and my classmate gave me the side-eye. I then proceeded to give her a little tour of our house, showing her our incense area in the back room and then going upstairs to the study to show her my toys. Lots of Girl Scout cookie boxes were sitting on the couch upstairs in the study at that point.
Out of nowhere, my classmate started crying and I couldn't understand why. I tried to comfort her with promise of a Girl Scout cookie, but she refused. After only a short time at my house, she requested to call her mom to take her home. I still didn't understand what had gone wrong since we were supposed to play until dinnertime.
Her mother came to my house and picked her up and I still didn't know what I had done to make her feel upset. Our friendship at school stayed lukewarm and she never spoke of the reason why she was uncomfortable.
Even though I thought I was like the rest of my classmates and fellow Girl Scout members, I realized after that moment that I was different, very different.