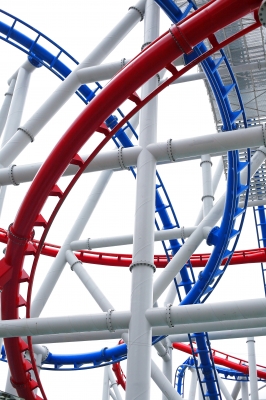 Once our older siblings went off to college and most of our relatives moved away to different cities, the 3 Little Kwongs (Lisa, me, and Adam) spent most of our time either at school or at home. During the summers, though, we spent time with our oldest sister in Williamsburg, Virginia, and also went to Busch Gardens a lot.
I remember my first time, I was so excited and intrigued by the idea of going to an actual theme park. Before then, I had only gone to the county fairs nearby and the rides there were usually unsafe; Busch Gardens seemed like heaven to second-grade me.
My sister Lisa was so scared for the both of us when we decided to ride the Loch Ness Monster roller coaster for the first time: I kept my eyes closed the whole time but I survived the ups-and-downs. Meanwhile, my sister Lisa also closed her eyes during most of the ride but was also frightened that I might have fallen out of the roller coaster. She was so relieved to see that I was still there next to her at the end of the ride! We bought a souvenir picture afterwards as proof to ourselves that we had conquered our fears.
We really enjoyed our time at Busch Gardens, though, enjoying the cultural themes around the park and riding all the different rides such as the Roman Rapids, Da Vinci's Cradle, and Escape from Pompeii. We felt like we were actually traveling Europe going around to each part of the park.
Each summer we looked forward to going to Williamsburg and Busch Gardens until our older sister graduated college. Then, we didn't go to Busch Gardens again until we were teenagers, and by that time, the magic had waned a bit: the rides were still fun but not as exhilarating as they were when we were kids. I wonder how I would feel nowadays if I went back to Busch Gardens as an adult.