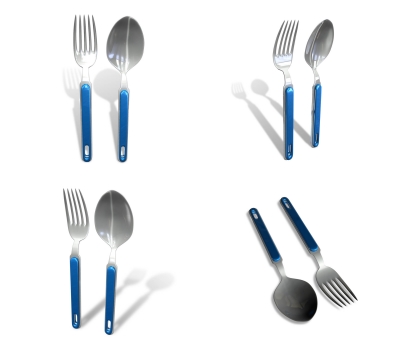 Out of the five of us Kwong kids, only my brother Adam and me did not wait on tables at our family restaurant (of course, he could prove my memory wrong if he reads this blog post). We both served as hosts, getting customers to their tables, ringing them up at the register, and answering the phone for takeout orders.
When we weren't doing those tasks and business was slow, we would spend time cleaning silverware and rolling them up in preparation for more customers. The process went like this:
Place spoon over fork and put them in the bottom left corner of a square napkin.
Fold the bottom left corner of the square over the spoon and fork. Roll silverware over once.
Fold the bottom right corner of the square up to cover the bottom tip of the spoon and fork.
Fold the top left corner of the square down over the top of the spoon and fork (sometimes, the other employees of the restaurant didn't do this step, which was fine, but made the silverware more likely to fall out)
Continue rolling silverware to your right until tight.
I liked to build little silverware pyramids while I rolled silverware, starting with a base of five silverware rolls. Sometimes I experimented with a larger base of six silverware rolls, but somehow it didn't feel right.
Rolling silverware was a bit of an escape for me during the long hours of work though; I became so adept at rolling silverware that I went on autopilot with the task and would start to daydream.
Writing out the directions above just went and showed me that I can still roll silverware well, haha! Probably won't need this skill anymore though.