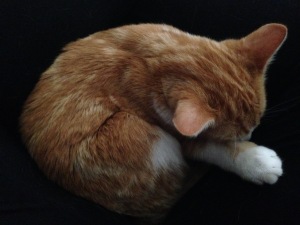 I've been taking things a bit easily lately. NaNoWriMo has been going along fine, although I have hit a wall with my writing and finding the story deteriorating badly. Well, maybe I will get to 50,000 words, or maybe I will just scrap this and go back to revising Novel 1.
Been catching up on some online workshops I had fallen behind on due to my focus on the GMAT the past couple of months; also have been working on reorganizing this blog. Over the years, I'd used the blog categories as tags, more or less, so I have been working on streamlining the categories so they're more relevant. I just had a chuckle reading through my Hot Dog Days archives: ah, those days of 2008 working at that hot dog stand.
Still unsure what to do next with plans for the next couple of years: school? Huh? My entrepreneurial spirit has been biting at me to get going with finally setting up Hashtag Hustler and get things rolling.
Looking forward to the holidays for some great food and wonderful family time. I miss my family.