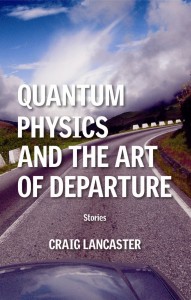 What a pleasure to share this news with you all:
My good friend Craig Lancaster is releasing a new book in December. This book, Quantum Physics and the Art of Departure, is a collection of short stories all centered around the theme of separation, all under the Montana sky.
Due to so much schoolwork for grad school so far, I have yet to finish the book, but I do highly recommend you checking out Lancaster's work. He never disappoints me with his beautiful storytelling (I wrote glowing reviews for his two novels, The Summer Son and 600 Hours of Edward). I'm sure his short stories will also be delights to read.
Ok! So, if you like reading e-books, definitely check out Quantum Physics between now and September 30. You can get the book for FREE on Smashwords, where you can choose from different e-book formats to your liking. Here are the instructions:
* The coupon code that will allow you to get it for free: EY63S
The coupon is good until Sept. 30. Please feel free to retweet or repost this! GET THE WORD OUT FOR THIS FANTASTIC AUTHOR!
(And note: No, not paid at all to promote this for Craig! I'm doing it because he is AWESOME.)