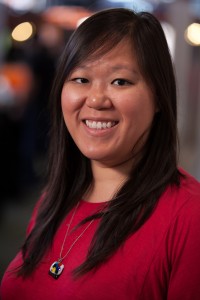 Helene Kwong is a serial entrepreneur. She received her Bachelor of Science in Marketing from George Mason University and uses what she learned through her own businesses. Other than entrepreneurship, Helene enjoys networking and connecting people from all walks of life and is known on Twitter as the "Ultimate Connector" and the "Hashtag Hustler".
Helene is a writer of novels, short stories, and blogs. Born and raised in Virginia, she first received inspiration for her writing during childhood, where she collaborated on stories with her classmates. Since 2007, Helene has completed four novels and has four in progress. These have been completed through the wonderful Office of Letters & Light programs of NaNoWriMo, Camp NaNoWriMo, and Script Frenzy. When Helene isn't writing novels, she writes book/music/restaurant reviews (on her blog and on Yelp!) and business papers.
Helene has a wide range of hobbies: pottery, crocheting, cooking, traveling, running, painting, reading, et. al. You will always find her with a good laugh and a great book in hand. Her favorite writer (and a good friend) is Craig Lancaster, author of 600 Hours of Edward and The Summer Son.
Helene has traveled throughout the US, Japan, and China and is fascinated by different cultures. She has intermediate fluency in Spanish and Japanese, conversational proficiency in her parents' home dialect of Taishanese, and briefly learned Korean. She likes to think of herself as a polyglot-in-training and plans to continue her studies on the Korean language, in addition to picking up Mandarin Chinese, Swedish, and Brazilian Portuguese (among many other languages!).
Helene currently resides in Denver, Colorado, with her cat Kitty Softpaws and partner Ryan. She spent four years in San Francisco before moving to Colorado. Helene's heart belongs to the Mile-High City!
Random Facts about Helene:
Helene participated in the filming of a music video for an indie band in San Francisco in 2008.

Helene played trumpet throughout middle school and high school and fancied becoming a professional musician.
Before TAOpivot (Helene's first company), Helene thought she'd start a clothing company in San Francisco.
Helene can imitate the hillbilly accent very well.
Helene's first language is Taishanese.