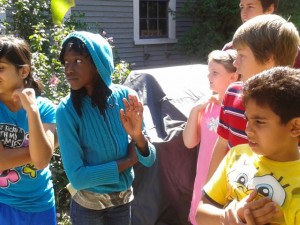 Note: Not paid to write about Joyful Harvest. This is a situation dear to me, even though I do not live in Maine. To see a friend in pain, to hear about how the children will lose a safe haven if Joyful Harvest closed down….doesn't this also bring pain to your heart?
Crowdfunding: it seems to have opened doors for so many. Projects getting funded left and right….dreams coming true.
But, should ALL dreams get funded? Even the ones that don't contribute to society?
I'll admit: back in August, I ran my own crowdfunding campaign on Indiegogo. I wanted to raise money for TAOpivot so I could pay for an intern and ease some of my financial burdens with running the company. I chose the flexible funding option; most of the money I raised was through my loved ones. I did not reach my funding goal, though.
In hindsight, I see that I did not have a strong enough campaign or message to compel strangers to contribute. However, as I watched which campaigns got featured on the front page, I also grew bitter. How come campaigns for making zombie figurines were getting overfunded and mine, a worthy social pursuit, was not?
My friend Shay, aka Black Girl in Maine, recently put up a campaign on Indiegogo to help her nonprofit organization, Joyful Harvest Center, to stay afloat. Joyful Harvest is a safe haven for children from low-income families in the Biddeford area of Maine. I hurt seeing how few people contributed to the fund; I hurt even more seeing how the center could potentially close its doors by the end of June due to lack of funding.
And again, I am reminded of why, many times, crowdfunding is a way to fund everyone's dreams, but some dreams seem "more important" to the public than others. People would rather see more useless objects in our society than to fund organizations that are trying to improve society/our economy.
And then, these same people wonder why they're unemployed, or why there is still a high-unemployment rate in the U.S.
Is this how human nature shows its true colors through this new way of funding? Have we, as a society, grown numb to trying to help each other out for worthwhile necessities in life? Have we suddenly decided that funding a statue of a not-so-famous celebrity on a dinosaur's body is so much more important than helping a nonprofit organization for at-risk youth?
Sure, life is unfair, but if we're a society built on making the next generation of leaders, why are we turning the other way when it comes to what Joyful Harvest Center is trying to achieve? What other socially-minded ventures are trying to achieve?
(Want to make a financial donation to Joyful Harvest Center?)