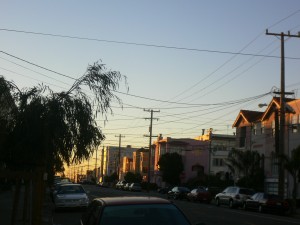 Today's post is special because it's part of a larger project: My Writing Process Blog Tour. Back to regular programming next week!
Thanks to one of my favorite writers and good friend, Craig Lancaster (author of books such as 600 Hours of Edward & The Summer Son), I am partaking in this little blog tour. The premise is to answer four simple questions regarding my personal writing process and then tagging three additional writers to join in on the tour. Easy, right? 🙂
1. What are you working on?
Remember Novel 1, aka Writing the Past? My very first novel from NaNoWriMo 2007 (yes, that was my first time participating in the frenzy). It is now nearly seven years later: at the beginning of this year, I finally got the manuscript going again with some editing from Shonell Bacon, another fellow writer but also excellent editor. Just last week, I got around to organizing her comments on my manuscript and have started working on some grammatical issues, chapter by chapter. I want to get this novel published before my 30th birthday next January, but I will also be content to just have the final manuscript ready for agents before my birthday.
I am also working on getting some freelance blogging gigs, so if you know of any good leads, holler at me!
2. How does your work differ from others of its genre?
At the moment, I don't know which genre Writing the Past should be included in. However, I do know that when I started writing this novel, I knew that I wanted to write the story of a family without fitting the family into a stereotypical box that other Asian-American writers tend to fall for in their novels. Unsure of if I'll be successful with this notion in the final manuscript.
3. Why do you write what you do?
If you've noticed via my blog categories, I have written more than one novel since 2007. Granted, the rest of these are all at first drafts currently, but nonetheless, I got the words down. My novels have dealt with light and dark themes stemming from personal observations and sometimes personal experiences. I like to think I write what I write because I ultimately want to live vicariously through my characters.
4. How does your writing process work?
So far, my writing process has been just writing on the fly, especially during NaNoWriMo in November. The community in November really gets me motivated to get my word count up for each of my novels. Then, as you can see from my experience with Writing the Past, I wait out several years before I get around to edits and revisions, haha.
Naturally, I would love for this process to change so I can get more of my novels ready for publication after Writing the Past!
---
Now it's time to tag the next writers!
Christin Haws is a long-time friend of mine online: we've known each other since Livejournal days (I believe that's how we got connected). Christin writes short stories and just recently released her first self-published novel, A Tale of Two Lady Killers. She's a huge baseball fan and rerun junkie.
Shonell Bacon is another long-time friend of mine, probably also from Livejournal; I don't remember anymore! Shonell is: author, editor, educator, and sexy coffee lover! You can follow her on Twitter, Facebook, and Instagram.
Megan E. Evans is a newer friend and fellow Denver resident. Megan is a freelance graphic designer, artist, and creative writer. She recently launched her blog Womb of Words as an accountability project on completing 100,000 words in nine months for a new work of fiction.
Thus continues the blog tour next week with these fine ladies!