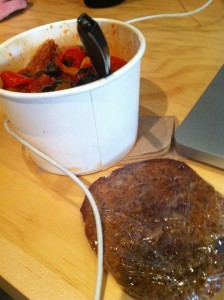 Last week I got a wake-up call regarding my health; amazing how a number on the scale can speak more than what it shows. I was near my heaviest last Sunday, and I knew I had to kick myself back into gear.
If you know my history, you know I have lost a lot of weight before, between 2006 – 2010. I initially lost weight in Japan (spent a semester abroad in 2006); then, I was determined to keep the weight off and maybe lose a bit more. There were periods of time between those years where I lost a little, gained a little, and so forth. 2010 I found myself at my skinniest–but not for the right reasons. I was so focused on aesthetics and pleasing others instead of caring for myself.
Well, this time around, I am focused on taking care of myself and losing the weight for my own health (and for my future children?). Over this past weekend, I participated in a 3-day juice cleanse via Pressed Juice Daily, a new juice shop in Denver. They provided me with 27 bottles for 3 days: 9 bottles per day.
I was a little nervous about trying a liquid diet, but even on Day 1, I felt fine spacing out the juices every couple of hours and focusing on that rather than my grumbling stomach. It also helped that at the end of each day, I got my 'treat' in the form of raw almond milk–SO delicious! I talked about my juice cleanse experience with my chiropractor today, and he said "The juice cleanse was successful for you because you are in the right mindset." True, true, true.
I weighed myself this morning and looks like I have lost 7 lbs since last week; majority of it probably from the cleanse. Now I am slowly adding in food to my diet. Today is a salad day; tomorrow, I can include grains and legumes. And so on, so forth. Basically, I am resetting my taste buds and making sure I eat more greens and eat smaller portions. No need for any fad diets this time: Moderation is key!
In terms of fitness, I am focusing more on walking and yoga. I don't have money to spare for a gym membership; besides, Denver has beautiful parks to walk about in, and I have the help of my friend, Jonathon, of Walk2Connect.
I am determined to lose the weight for my health this time. I've started tweeting about my health journey; if you want to follow along, follow the hashtag #hkhealth.
Hope you can join me on my journey!