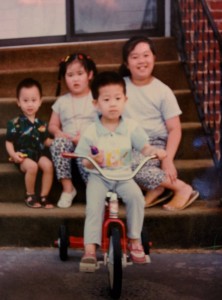 My sister Lisa, my brother Adam, and I are the three youngest in our family: we are the American-born kids all relatively close in age, so we spent a lot of time together playing as kids.
One game that we came up with in our childhood was called "The Carpet Game": in our first house, our parents had a lot of carpets/rugs throughout the first floor, sometimes even carpets-upon-carpets. So our game consisted of jumping from each carpet and make it through the first floor without touching the floor, aka the "hot lava".
When there weren't any carpets, we would step from chair to chair to make sure we wouldn't touch the hot lava. It was quite an obstacle course to get through! I remember one time we had tried to switch the game into opposites, stepping onto the floor instead of onto carpets. That served to be even more difficult, so we gave up on that idea.
Oh, the active imaginations of childhood!